10 best Disney+ original movies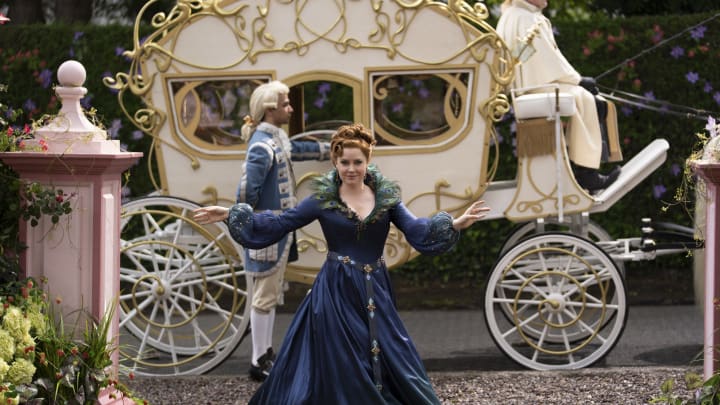 Amy Adams as Giselle in Disney's live-action DISENCHANTED, exclusively on Disney+. Photo by Jonathan /
3. Disenchanted
(L-R): Amy Adams as Giselle and Maya Rudolph as Malvina Monroe in Disney's live-action DISENCHANTED, /
Fifteen years after the Enchanted movie made Amy Adams a star, she finally returned for a sequel. Her fairy tale princess Giselle adjusts to moving to the suburbs, clashing with the local "queen," played by Maya Rudolph. She tries to help by transforming the town into a classic fairytale world. However, this turns Giselle into an "evil stepmother," with Adams showing a wicked side. With some fun new songs and the charm of Adams on display, this was a worthy sequel to Disney hit and a good watch on the streamer. 
2. Chip n Dale Rescue Rangers
'Chip 'N Dale: Rescue Rangers' Premiere / Alberto E. Rodriguez/GettyImages
This movie has no right to work as well as it does. The idea is the classic chipmunk characters are placed in a wild mix of animation and real-life adventure. The jokes are fantastic such as how Chip is still in classic animation while Dale got "CGI surgery." The in-jokes are frantic — the best being the infamous early version of Sonic the Hedgehog — and the action itself is terrific. It still has the charm of the original cartoon show mixed with meta-humor, and the results are one of the wildest and most delightful movies Disney has created in years. A total blast from start to finish to enjoy. 
1. Turning Red
WE'VE GOT YOUR (FLUFFY) BACK – In Disney and Pixar's all-new original feature film "Turning Red," /
In 2022, Disney released Lightyear in theaters, and Turning Red was sent to Disney+. It's obvious they made the wrong choice. While LIghtyear flopped, Turning Red turned into a critical darling and a hit, telling the story of a teenager whose usual puberty woes are added to when she inherits the family curse of transforming into a giant red panda. The animation is among Pixar's best, and the story is terrific, mixing teen angst, friendship, a mother/daughter bond, and love of '90s boy bands into a great combination. If this was the movie Disney/Pixar released in theaters, it'd have been a far bigger hit.