Galactic Starcruiser takes its final voyage this week as Disney World cast says good-bye
It was supposed to be the next level adventure from Disney World parks and resorts. A fully immersive one-of-its-kind Star Wars spectacular. Instead, it failed. Miserably. Now, the adventure comes to a close.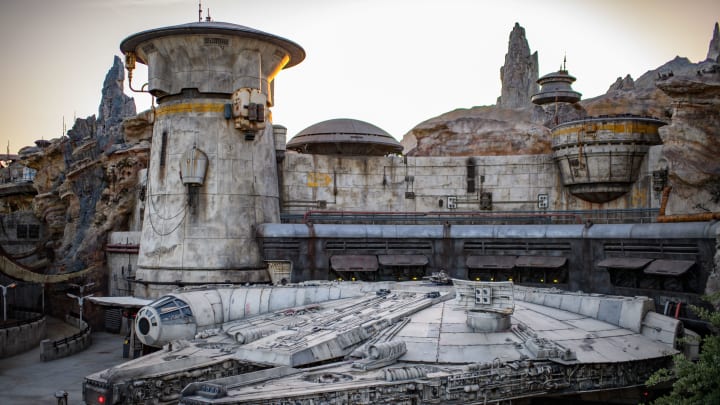 Star Wars: GalaxyÕs Edge at Disneyland Park in Anaheim, California, and at Disney's Hollywood /
When you arrive at the Star Wars: Galaxy Starcruiser you are not just heading to a hotel. You joined an incredibly immersive enviroment that whisked you across the galaxies. Now, after just over a year, the final trip to the stars, the final jump to light speed, will come to an end.
We have known since last May that the final curtain call for the land-based "cruise" was hitting in September. Now, the end of September has arrived and there is one final mission to be had.
Castmembers took to social media to express their final voyage.
The final cruise comes this week from September 28th to the 30th and then, it all closes down. Castmembers will be reassigned and the building will lay empty until Disney tears it down.
It was a wasted effort by Disney that never made its money back. Trips cost well over $1,000.00 per person for what amounted to a two night stay.
On board, guests were treated to real-time thrills and begged the guests to get involved with the storyline. From guiding the ship and instruments to lightsaber training, Star Cruiser went all-in to give guests the impression they were in a Star Wars universe.
From costs to operational problems, Galactic Starcruise couldn't get off the ground and latch on to a business model that was going to make more than enough money.
Sadly, for most Star Wars fans, could never have afforded the experience and that was part of the bigger picture. The attraction, if you will, was made for Star Wars enthusiasts but priced out of the range of most. Even the day-trip promise of interaction at Galaxy's Edge wasn't a draw enough to bring guests in.
Now, it ends. Quitely. A marvelous spectacle that couldn't live up to the expectations or the cost. Will we ever see something like it agian? Probably not, at least not from Disney.
There has been no discussion or rumors of a retheme or differeniated buisiness model. So chances are this will simply go away and never return with only a few thousand lucky guests having experienced it overall and a few thousand might be generous.