The 10 best character meet and greet spots in Walt Disney World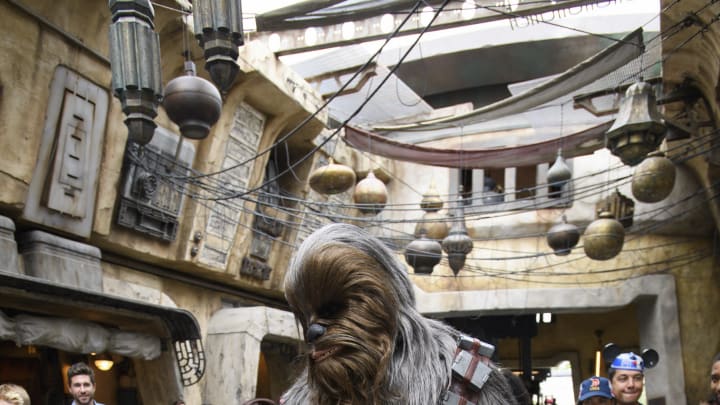 STAR WARS: GALAXY'S EDGE - ADVENTURE AWAITS - Freeform will give viewers an exciting /
For any visit to Walt Disney World, a meeting with some characters is a must. It doesn't matter how old a guest is; any Disney fan will love to meet Mickey, Minnie, Donald, Goofy, and more classic characters. There's also a variety of characters from movies, TV shows, and others to enjoy, and every park gives guests plenty of opportunities to see them. 
Some spots are better than others, with great settings and a few the only place to see unique characters. Given how vast Disney World is, it's hard to narrow it down, but these rank as the ten best character meet and greet places in Disney World and why kids of all ages will want to check them out. 
10. Animation Courtyard
This spot where the Animation Building used to be at the Hollywood Studios is fun in how varied the characters can be. Many are from the Disney Jr shows like Vamparina, Doc McStuffins and Nancy Clancy. Occasionally, there can be big names like Pluto and Donald, and sometimes Disney will have characters from a new animated release. For those wanting to see some one-of-a-kind characters around, this spot is the best pick. 
9. Toy Story Land
Fittingly, this spot based on a backyard playland has a few unique meet and greet for Toy Story characters. Woody and Jessie can be found right beside the always-busy Toy Story Mania, able to pose either together or separately. Buzz is located near Slinky's, and occasionally, other characters will be around, from Bo Peep to the Army men marching along for brief shows. You'll always have a friend to find in this land. 
8. Star Wars Launch Bay
Set at the Hollywood Studios, this spot is an excellent connection to Galaxy's Edge to meet some Star Wars characters. Right now, the lineup is Chewbacca, Darth Vader, and BB-8, but there's a chance Disney can add other characters now and then, from the Mandolarian and Grogu to a rumored Ahsoka addition this August. Guests can also enjoy a bevy of props, sketches, and other items from the movies and TV shows to make this an experience out of this world. 
7. Royal Sommerhaus
For any Frozen fans, this is the best spot to meet its iconic characters. Based in the Norway pavilion, right by Frozen Ever After, this hut recreates Arrendelle and leads right to Elsa and Anna. Both are clad like their movie characters (which can shift in dresses depending on the day) and in recreations of the Arendelle palace. They can be met either one on one or together, so even if you're tired of "Let It Go," it's a good site for families to enjoy. 
6. Princess Fairytale Hall
As the name implies, this is the place in Disney World to meet the Princesses. Each has their own separate room, housed in a building looking like a castle. Guests walk past gorgeous portraits of Belle, Aurora, Snow White, Ariel, Cinderella, Rapunzel, Elena and more. The princesses can swap out depending on what day you visit, and guests can see just two in each visit. However, for any little girl in a group, this meet and greet is a must-do for families. 
5. Adventurers Outpost
This Animal Kingdom location is notable as a rare place where you can meet Mickey and Minnie together. Located in the Discovery Island section, this hut has the pair clad in jungle outfits before a map highlighting the adventures guests can go on. Between the outfits and the fact you can pose with both together, it's a fun spot that thankfully reopened after a long shutdown to take guests on a fun adventure of their own. 
4. Pete's Silly Sideshow
Housed inside a huge circus tent in Fantasyland, this is a unique meet and greet, thanks to the costumes involved. The big ones are here with Donald, Goofy, Minnie, Daisy, Pluto and some others coming in. The outfits are the draw, which lives up to the "silly" name with a circus theme, so Goofy looks like he's about to be shot out of a cannon while Donald and Daisy look like gypsies. The circus motif is a fun touch to it all and makes the air-conditioned "tent" a delightful visit. 
3. Gaston
This is a special meet and greet for a few reasons. For one, there's never a truly set time, as Gaston can pop up without warning in a time range by Gaston's Tavern at Fantasyland. What makes it great is the actor in the role can always be a delight, bantering with guests, boasting of his greatness, arm-wrestling with kids and more. It's odd for the villain to be the star of a meet and greet, but Gaston's energy makes this an underrated meeting spot. 
2. Red Carpet Dreams
Given its closeness to the Runaway Railway ride, this spot in Hollywood Studios is a good place to catch Mickey and Minnie. Note that you have to see each separately, but it's fun. Minnie is in a dressing room, dressed like a 1940s movie star, and has fun poses. Mickey is even better in a castle setting and wearing the fantastic outfit from the classic Sorcerer's Apprentice scene. That gives these meet and greets a good edge, and so should be seen. 
1. Mickey Town Hall 
At the end of the day, many guests will just want to meet the big cheesy himself. And for that, Magic Kingdom guests can head straight to the Town Hall on Main Street, where Mickey is set in an air-conditioned setting with a line that includes clips of his past movies. It's a fun spot that can be accessed via the Disney Genie app to get a good appointment, and it's fun to see if you catch Mickey in a variety of outfits, from a magician's getup to a special 100 Years of Wonder suit. This makes for the best way to see the big guy up close.