10 best Disney+ original movies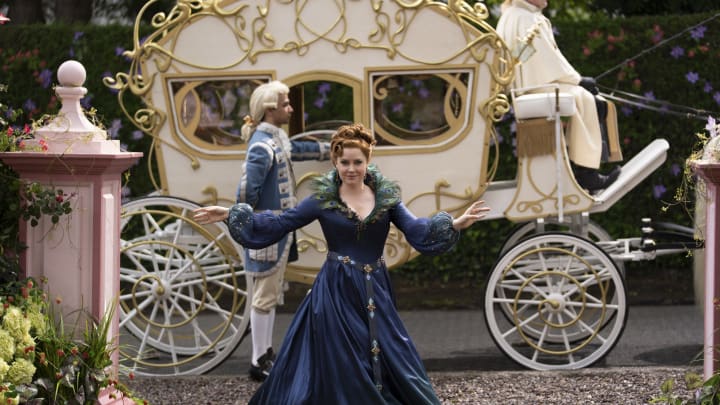 Amy Adams as Giselle in Disney's live-action DISENCHANTED, exclusively on Disney+. Photo by Jonathan /
Disney+ has been undergoing some major upheaval lately. Subscribers were not happy with the company's decision to remove dozens of television shows and movies from the streamer this past May in what seemed to be a cost-cutting move. The streamer still has a lot of fun original content to offer, and that includes some great original movies. 
Some were meant for theaters before being dropped to the streaming service, but the ones that are originals can be great. They boast A-list Hollywood talent and retain the Disney magic through and through. While some films have been removed, here are the ten best Disney+ original movies to check out now and enjoy a great feel of Disney entertainment. 
10. Secret Society Of Second-Born Royals
A throwback to the sort of movies the Disney Channel excelled in, this sci-fi fantasy film stars Peyton Lee as a princess who's ignored as she's the second born in her family. Attending a boarding school, she discovers that all second-born royals have magical powers and is brought into a team of other "spares" to save the kingdom. The idea is nice to show the prince and princesses aren't really the heroes of their own stories. It's a fun mix of X-Men and Descendants, and the ending leaves it open for a sequel, as this film is a fun secret gem among Disney+ movies. 
9. Godmothered
Fans of films like Enchanted and The Santa Clause will find a lot to like in this film. Jillian Bell is a fairy godmother upset that her kingdom is about to be taken over by the tooth fairies. She decides to prove her worth by answering the letter for a young girl. However, the letter is pretty old, and the girl is now a frazzled divorced mom, played by Isla Fisher. Naturally, Bell's attempts to help just make things wilder as the movie has a fun chemistry between the leads and even a Christmas feel to be a magical adventure for the family. 
8. Safety
Fans of true-life sports stories will love this film. Jay Reeves is a young recruit for Clemson football dedicated to joining the team. But when his mother checks into rehab, he has to take care of his younger brother by sneaking him on campus. Directed by Reginald Hudlin, the movie puts the brothers' story front and center while avoiding the cliches of such sports  tales. It's a throwback to the warm-hearted movies Disney used to put in theaters, but it works wonderfully on Disney+ and is worth checking out. 
7. Prom Pact
Red Carpet Premiere Event For Disney Original Movie "Prom Pact" / Unique Nicole/GettyImages
Released simultaneously on Disney+ as well as Disney Channel, this comedy wears its love for the 1980s on its sleeve. It's there from the music to fashions to capturing the feel of the teen movies of the era. Peyton Elizabeth Lee is an ambitious high schooler who handles the "prom-proposals" of classmates but can't decide between her longtime friend or the jock she supposedly hates. The film embraces the cliches of such stories with some fun music, and the final dance scene is wonderful, making this a great film for teens of all ages.